Concerts are hotspots for spreading illnesses such as COVID-19 and the flu. Those in attendance of large events are at a much higher risk of contracting airborne pathogens. Implementing pre-screening procedures can keep the audience, band, and staff safe, but the use of a safe and effective disinfecting agent will help keep people even safer from harmful pathogens and illnesses such as the Coronavirus.
Health Safety at Venues
Many arenas and venues still have precautions in place to protect against the spread of COVID in close contact with others in indoor areas. State Farm Arena in Atlanta, Georgia has COVID-19 health and safety protocols in place such as COVID-19 health checks required at some shows, a cashless environment, mobile tickets, x-ray scanners to reduce touchpoints for bag checks, and extensive cleaning and disinfecting procedures.
The Seattle Symphony is committed to a safe and comfortable concert experience. Policies at this venue include encouraging masks and requiring audience members to sign waivers saying the Seattle Symphony isn't responsible for anyone contracting an airborne illness. The venue has also upgraded its air ventilation system, enhanced cleaning protocols, installed hand sanitizer stations, and put a contact tracing system in place.
According to NorthStar Meetings Group, the CDC's guidelines for events as of August 30th, 2022 recommend that meeting organizers consider the health and safety of attendees and staff at every step during the event planning process. Event organizers are recommended to follow state and local regulations on gatherings and continually monitor the outbreak and adjust event plans as needed. The risks that event venues are encouraged to consider include:
Number of Covid-19 cases within the community
Potential for exposure during travel
Length of the event
Setting
Number of people attending
Behavior of attendees
Before the event, staff and attendees should be educated on the proper safety protocols. Event managers should also ensure the venue is supplied with COVID-19 preventative materials such as hand sanitizer and should modify the event for social distancing while discouraging anyone who is sick from coming.
During the event, the CDC recommends that event organizers continue to stay informed on coronavirus-related news, stagger attendance times, conduct temperature screenings, ensure ventilation systems operate properly, and increase circulation of outdoor air as much as possible.
After the event is over, organizers should host a post event meeting to discuss lessons learned and continue to monitor emergency preparedness resources and training.
Understanding the Risks
According to covid19.ca.gov, mega-events are considered indoor events with 1,000 or more people or outdoor events with 10,000 or more people. These events include conventions, concerts, sporting events, and more and put people at a high risk of spreading illnesses.
Crowded places are hubs for catching a stomach bug that might be going around along with numerous other viruses. Festival flu is what people call the post-festival illness people commonly catch after spending a weekend in large festival crowds. Being in close contact with others is guaranteed to raise the chances of getting sick, says EverydayHealth. It is also encouraged to not touch surfaces that are used and shared often and to limit physical actions with others.
While this is great advice and is sure to lower concert goers' risk of spreading and catching illnesses, it is usually not practical for medium to large sized concerts and festivals. Keeping a good distance from others is recommended by the CDC but can be difficult when at a concert. Venues that hold these large events can implement certain disinfecting practices to help lower the risk of germs in these areas while giving the band and audience a normal concert experience.
Reducing the Spread
The White House reports that, "using portable air cleaning devices, and even just opening a window – can reduce the risk of COVID-19 transmission – with studies showing five air changes an hour reduce transmission risk by 50 percent. Improving indoor air has benefits beyond preventing COVID-19: better indoor air quality will reduce the risk of getting the flu, a common cold, or other diseases spread by air, and lead to better overall health outcomes".
With the use of non-toxic disinfecting products, venues can make large events safer for attendees and staff. It is essential to ensure the disinfectant chosen to use in venues is government certified and on the Environmental Protection Agency's list of approved products to use against Covid-19. Many common disinfectants contain bleach and other harmful chemicals that are toxic to humans and can do more harm than good when used.
Protection at Concerts with Paerosol
Paerosol is a patented disinfectant platform that can permeate an entire room by diffusion and kill bacteria, viruses, and mold spores everywhere upon contact with its hypochlorous acid solution (HOCL). Hypochlorous acid has many benefits as a disinfectant including killing pathogens on contact, having no harmful side effects to humans or animals, and preventing pathogens from developing immunity. These characteristics make Paerosol an ideal disinfectant for indoor and outdoor venues and events like concerts where the spread of COVID-19 is a major concern.
Air quality is also an important factor in large events both indoor and outdoor. Event organizers should look to reduce potential pollutants for band safety and crowd safety. Fog machines can actually cause detrimental effects to the air quality at a concert. The American College of Allergy, Asthma, and Immunology (ACAAI) says, fog machines "could trigger acute asthma symptoms including cough, wheeze, chest tightness and shortness of breath. Even in a person without asthma, short term exposure to glycol-containing fog machines can be associated with headaches, dizziness, drowsiness, and eye irritation". These short-term exposure effects can affect the crowd while long term exposure can pose more serious side effects to the production crew and the band members who are exposed on a regular basis while touring.
Paerosol tested the use of its disinfectant in August at a Widespread Panic concert at the Fox Theatre in Atlanta Georgia. With the Fox Theatre having a capacity of nearly 5,000 people, the performers and crowd safety was a priority.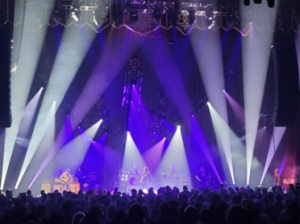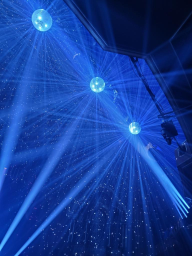 Widespread Panic concert in Atlanta Georgia at Fox Theater on August 10, 2022
Paerosol used its HOCL solution as not only a disinfectant, but also part of the show as a smoke machine. The band and crowd were constantly protected against diseases and bacteria without sacrificing on the quality of the live show.
Choose Paerosol For Your Next Event
Paerosol has effectively solved the disinfection and smoke machine issues prevalent at concerts and other events using a single technology. Paerosol's dry spray technology can be used to kill viruses, mold, and bacteria both on surfaces and in the air with no residue, moisture, corrosion, or negative side effects.
Contact Paerosol today to discuss how our technology can assist you